Discover Leadville's high country the way the early settlers did—on horseback. Animal and nature lovers can explore Leadville's expansive trail system from the comfort of a horse. While local outfitters are ready to saddle you up, horse owners can bring their horses to any of the 45 trails within the Leadville Ranger District with staging areas that accommodate trailers.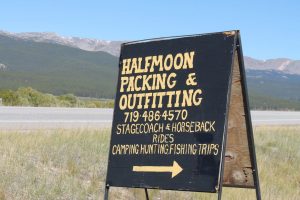 Whether riding for a couple of hours or days at a time, there are exceptionally scenic rides in and around Leadville. In addition to gorgeous landscapes, riders can expect to see an abundance of wildlife, including black bears, mountain lions, and moose! History lovers can choose rides that pass abandoned homesteads and ghost towns—the remains of Leadville's gold and silver era.
While there are plenty of trails to choose from, some of Leadville's more popular horseback riding destinations include Clear Creek Canyon, Hagerman Pass, the Colorado Trail, Native Lake, and Missouri Gulch.
Missouri Gulch
The Missouri Gulch trail begins at a large parking lot across from the ghost town, Vicksburg, in Clear Creek Canyon. It's a beautiful trail that travels through forests before mounting a succession of rolling rises and breaking out into alpine tundra.
The beginning of the trail is one steep switchback after another. But once you hit 11,000 feet, passing an old cabin, the grade levels out, the trees thin, and a postcard-worthy view of wildflowers and high mountain peaks emerges. The trail can be continued to the top of three fourteeners—Missouri, Belford, or Oxford. Though horses will not be able to scramble the scree to the top of the peaks, there are nearby signposts to tie them to.
Missouri Gulch Trailhead