Colorado is paradise for the knobby-tired tribe in more ways than one. So much so, mountain bikers come from all parts of the globe to take advantage of Colorado's world-renowned singletrack. For them, white knuckling down a hill, exploring ridges with breathtaking vistas, and rolling through alpine forests is what life is all about.
From technical and steep to smooth and flowing, Leadville offers mountain bike trails for every level of rider. Mountain bikers can ride around a high alpine lake at Turquoise Lake, explore an abandoned lakeside resort at Twin Lakes, or careen through pine forests on wide, smooth trails at Colorado Mountain College. For riders looking for a high-altitude adventure, the Mitchell Creek Loop stays above 10,000 feet in elevation. Close by is the Tennessee Pass Nordic Center, which offers 16 miles of crisscross trails as well as a luxurious, fully-stocked café.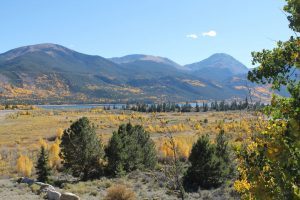 Mitchell Creek Loop
Enjoy views of Chicago Ridge and the Continental Divide from the Mitchell Creek Loop. With elevations topping 10,000 feet, this ride provides jaw-dropping scenery and awesome singletrack that veers through high alpine forests. Though the ride is high, it gains only 542 feet in elevation, making it suitable for beginner and advanced riders.
To get started, head nine miles northwest of Leadville on Highway 24 and park at the Tennessee Pass trailhead. The first three miles are on the well-marked and well-maintained, Colorado Trail. After that, riders meet the intersection of Wurtz Ditch Road before heading up the road and returning to the forest. Eventually, the trail reconnects with the Colorado Trail for a climb back to the parking lot. While there's a bit of ascent and descent on this ride, the easiest section is the 2.5-mile, relatively flat, Old Railroad Run. This ride can be done in both directions, though clockwise is the preferred (and more fun) route.
Tennessee Pass Trailhead
GPS: 387 022 E, 43 57 837 N