Leadville is a world-renowned recreation destination. Whatever the season, there's an exciting and fun activity waiting for you.
With its cooler temperatures, sunny, blue skies, and fields full of wildflowers, summer is Leadville's busiest season. As fall descends, the crowds disperse and the aspens' gold, red, and yellow foliage emerges. In what many consider to be the most beautiful time of year, days in fall are still warm, the trails dry, and the air crisp.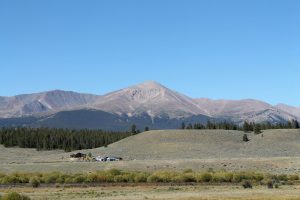 During these months, recreational opportunities are plentiful. Leadville's trails are ideal for hiking, mountain biking, and horseback riding. Backcountry roads and mountain passes offer miles upon miles of four wheeling. Leadville's rocky landscape provides slabs for rock climbing and shelves for rockhounding, while high elevation roads are the ultimate in road biking. Of course, there are also the forests—lots and lots of forests. In Leadville, visitors can get away from it all. Camping, hunting, and fishing are abundant. For those who want to stay closer to town, a walk along the Mineral Belt or a round of disc golf are also delightful.
Leadville's winters are notorious for their snowfall. Locals rejoice when the season's first flakes appear. For them, winter's recreational opportunities are just as fun as summer's. Leadville excels at grooming trails for cross-country skiing, snowshoeing, fat biking, and snowmobiling. Nearby Ski Cooper offers some of the state's softest and deepest natural snow. For those who prefer backcountry skiing, no place can beat Leadville's wilderness areas. Leadville's love of winter shines in town, where a groomed sledding hill and outdoor skating rink provide hours of family fun. Not to be forgotten, nearby Turquoise Lake and Twin Lakes are some of Colorado's most popular ice fishing destinations.
If you want to play outside, Leadville is the place to be. Summer or winter, spring or fall, it doesn't matter. Here, recreation opportunities abound. There's something for every interest, ability, and age. It's a place to breathe fresh mountain air, feel healthy, lift the spirits, and appreciate everything this beautiful earth has to offer.