According to Colorado Parks and Wildlife, Colorado has over 2,000 lakes and reservoirs, many of which are ideal for boating. With landscapes ranging from tall-grassed plains to high mountain valleys, the scenery surrounding these lakes are as varied as the colors in a box of crayons. But, they are all stunning, making each boating trip memorable.
Colorado's lakes and reservoirs accommodate sailboats, motorboats, and everything in between. Some bodies of water are large with shores that weave around cliffs, sandy beaches, and rocky crags. Others are tucked away in canyons or at the base of a mountain range, where quiet is found. For some of the best mountain views, launch your boat in one of Leadville's high alpine lakes. At such high elevations, the scenery is exceptional and the water is as clear as it comes.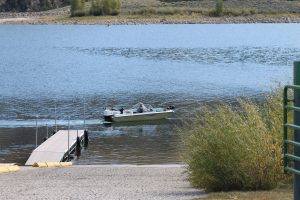 Just five miles west of Leadville is Turquoise Lake, the area's most popular boating destination. With 780 surface acres, 14,000-foot mountain views, and a very accessible boating ramp, people come from all over Colorado to enjoy Turquoise Lake's majesty.
Fifteen miles south of Leadville is Twin Lakes, an area often considered one of Colorado's most beautiful—and secret—destinations. These two glacier lakes are nestled under Independence Pass and makeup 1,700 surface acres. Boating here is also a historic excursion as the mining town of Twin Lakes sits on one side of the water and the abandoned, yet preserved, Interlaken Resort sits on the other.
Five miles beyond Twin Lakes on Highway 24 is Clear Creek Reservoir. This is a smaller, more intimate body of water whose beauty competes with its larger neighbors, but whose seclusion offers unparalleled mountain solitude.